Commercial Fishing Marine Windows
You can find our Boat Windows on lobster and tuna fishing boats in the Northeast, salmon and crab fishing boats in the Pacific Northwest and Alaska and the deep sea sportfishing boats of the Hawaiian Islands. Tough. Dependable. And we are proud to tell you, they are made in the U.S.A.
Because of our custom manufacturing practices, we are a leading choice for smaller to mid-size boat manufacturers. We have the flexibility to offer a variety of choices of glass tints and frame colors to personalize each job and give your boats a unique look and the character it needs to stand out in the crowd. Our dependable lead times, aggressive price points and attention to detail are all attributes that you'll find refreshing. Our goal is for our products and service to exceed your expectations.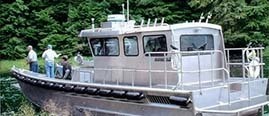 We also take great pride in servicing the private sector as well. Whether you are the "I'm going to build my own boat" guy or the "It's time to update our old boat" couple, we'll walk you through the process and make sure that you get what you need. We are a family-owned business, so our success is directly tied to your satisfaction.
We depend on a little word of mouth advertising from our satisfied customer base to sustain our business model. We don't spend a lot of money on big glossy magazine advertisements. We are very selective on the number of trade shows we attend. We choose to spend our money on product enhancements and our employees. The premise is this: If you have a good product, built by people who care about the process and back it all up with solid customer service – sales will come.
We are excited about the opportunity to add you to our family. Please help us describe your needs by getting started here.