As new boat owners, there's still a lot to know about boat parts and accessories, not to mention, other tools used for maintenance. The best way to have knowledge about that is from one thing: experience. But experiencing it all first can be costly.
With so much to see in the market, how can you know which ones you should invest in? To guide you better on knowing which boat parts and accessories you need, here are a few tips for you:
Have a look at where you're boating
Sailing different seas require different needs. You may ask experienced boat owners in the area, and they'd be glad to give you some tips.
Take note of what your sailing and boating locations are like, especially during docking and anchoring. Determining where you are boating will help you purchase the right boat materials for your boat's needs. For example, mushroom anchors work best for rocky beaches. Fluke or hooker anchors may just get caught on rocks when you pull them up.
Extra props are like extra tires
Without your propellers, your boat isn't going anywhere. They're basically your boat's main function.
Even if you're not knowledgeable about how to change your own props, you must stock on some extra pairs that goes with your boat. It's easier to ask people's help, but without the right materials on-board, they couldn't help you with anything. This is a must if you're traveling a great distance, especially during cold seasons.
You may also want to stock up on extra batteries during the trip, just to be sure.
Stock up on navigation aids
It's so easy to get lost in the middle of the sea, especially if you're sailing it for the first time. Avoid this by using the best navigation tools and aids in the market.
Better yet, why don't you invest in your own boat's GPS instead? Navigation tools can be a handful, but with the right GPS tracking tools installed in your boat, you need not worry too much about getting lost at sea.
Never scrimp on safety gears
'Safety first' is a popular term used in boating, sailing, and other sea-related activities. It's simply because the sea is very unpredictable. There's a high risk of danger, especially when you're out in the open and nobody will be there to help you as soon as you need it. That's why it's best to be prepared.
Boarding floaters, life vests, fire extinguishers and first-aid kits are must have boat accessories inside your boat. You'll never know what's out there.
Related: Boat Dock Accessories
Invest in quality windows
Your boat's windows shouldn't only make people do a double-turn, but also should give the impression of privacy and exclusivity in your boat.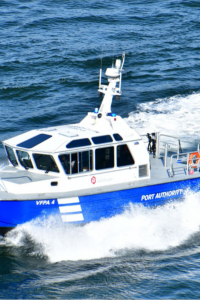 The best boat window supplier should know your style, and the best materials you should use for your boat's windows. They must also be knowledgeable on how to properly install the windows in your boats, especially if there are parts that are submerged in water.
Related: Quick Guide To Boat Window Parts
Tints and coatings must also work well with how you want your windows to be, for privacy and convenience.
It's important to know what your boat's needs are before letting her out in the open. When determining the right boat parts and accessories fit for you boating needs, find the best supplier there is. At boatwindows.com, installing the perfect boat windows is our expertise – give us a call!