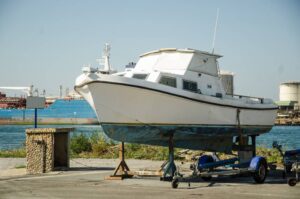 Having a boat trailer is a big responsibility in itself. And buying one certainly isn't an easy task either. Check out this buying guide to help you narrow down your choices.
Weight Capacity
Of course, the trailer has to be strong enough to hold the weight of the boat. Not only that, but it also has to be strong enough to carry the additional weight like the engine, the gear, and even the fuel. Always check the trailer's gross vehicle weight rating (GVWR), or the maximum weight capacity of a trailer, so you'll know if the trailer can carry your boat. Buy a trailer with a GVWR rating higher than the estimated weight of the boat to be prepared for any excess weight.
Overall Length
Be sure that the boat trailer you purchase is not the same size as your boat's hull. Purchase one that offers more space and a few centimeters of extra room to secure the boat better in the trailer. This is why estimating the size and weight of your boat is always step one.
Roller Trailers
If this is your first time shopping for boat trailers, you should know that there are two types of boat trailers in the market. The first one is bunk trailers, a cheaper option due to fewer parts, which means less upkeep and repairs. Unfortunately, bunk trailers need to be submerged in the water every time you unload or load your boat, which exposes your running gear and other parts to damage due to saltwater.
The second one is the roller trailers which don't have to be submerged as deep as bunk trailers to unload the boat into the water because of their built-in wheels underneath the hull. Plus, roller trailers are designed to protect the gears and other parts of the trailer from salt or freshwater, which provides longevity.
Aluminum Build
There are also two types of materials used for boat trailers. First is galvanized steel, which is excellent for protecting lighting, wirings, and brake lines. Unfortunately, this material gets rust easier, and it's heavier, too.
The other one is aluminum which is lighter and makes up for an easy haul. Additionally, hauling an aluminum-based trailer also offers fuel efficiency because of its weight. Over time, aluminum may corrode, but the great thing about aluminum is that it doesn't rust.
Multiple Axles
Compared to single-axle trailers, multi-axle trailers are a bit pricier and require more maintenance, but they can be very beneficial to the owner. Multi-axles track better during transport, and they provide a safer ride in case a tire blows out.
In addition, most manufacturers recommend multiple axles because they have brakes installed on each axle, which is excellent considering that there are states that require boat trailers with a certain weight to have brakes on all wheels.
Other Things to Consider
Look for boats with LED lighting because they are more durable and waterproof than incandescent lighting.

If you're buying a used trailer, check if all the brake lights and indicators are working. Make sure that there aren't any electrical problems. Compare boat trailers in the same models to find out if the used trailer is missing any part.
Maintenance Guide for Boat Trailers
If you're planning to buy a boat trailer, you should know that there are lots to do to maintain its quality.
Here are some to keep in mind:
Always clean with fresh water
Saltwater can make your boat trailer corrode or catch rust. The best thing you can do is wash the boat and the boat trailer with fresh water after taking it in the water. While some trailers are designed to withstand saltwater or any similar marine environment, it would be best to clean with fresh water regardless.
Tire care
Check if the tire tread of your boat trailer is at least 4mm deep. Otherwise, you should replace them. You should always watch out for tire pressure, too. Tires may get punctured due to low pressure. Remember that tire pressure is essential because if your car is hauling a single-axle trailer and one of the wheels gets punctured, the whole trailer will topple.
A roller shouldn't be jammed.
If you're going for roller trailers, make sure that all rollers are still functional. The rollers help the boat slide off or up the trailer with less friction to prevent damage to the hull. To prevent rollers from rusting or jamming, one thing you can do is give them a spin every time the boat is in the water. You can rotate the rollers and let them spin freely.
Check your bearings.
One of the most common failures in a boat trailer is in the bearing. Checking the bearing may be a challenge because you have to disassemble first to see the wheel. If the bearing is damaged, replace it immediately. The good thing is that replacing the bearing is not that hard, and it can be a DIY task. A damaged bearing can pose a threat while driving the trailer on the highway, so make sure you check the bearing and change it if you see the damage.
Conclusion
Choosing the right boat trailer is a tedious process. While owning one will require more upkeeps to ensure a safer transport of your boat. It may all be a piece of work, but the perk of being able to move your boat from one place to another opens a lot of possibilities for exploration, which makes all those efforts worth it.
Check out Motion Windows, a division of Peninsula Glass, for durable quality marine windows that are crafted just for your boat.