When you've got time in your hands, why not do something productive? Maybe it's your chance to start that big project you've always promised yourself to do. No idea what to DIY yet? Here's one – why not make your own homemade aluminum jet boat?
Jet boats are lightweight, fast, and very functional. The good news is that you can build one right from the comforts of your own home. It's surprisingly easy, cheap, and fun to do! Before you jump in, here are some important things you should know about.
Building with a jet boat kit set
Purchasing a jet boat kit set is one thing to consider when you want to DIY it at home. However, a mini watercraft like a jet boat still needs planning and preparation. These are the most important things to know before purchasing your jet boat kit set.
The hull kit
Plan what size your mini boat should be. The hull size will determine the size of the boat's body. Common hull sizes may range anywhere between 2 to 4.6 meters. Also, it would be best to find a hull kit supplier that will complete your needs.
Hull kits in the market are mostly consist of the following:
Transom step option

Foredeck bulkhead

Rub rail

Hardwood plywood for flooring

Bench seat

Engine mounts and cover

Keel plate with fasteners

Jetski pump bash plate

Handrails (straight and bow)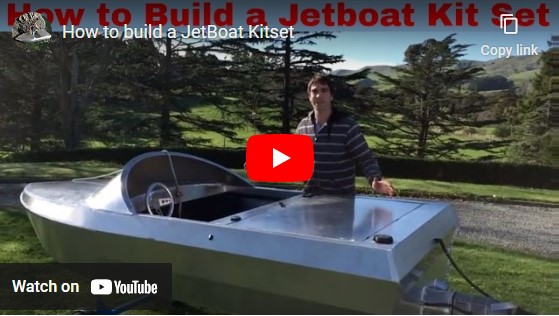 The engine set
Your engine is codependent with your chosen hull size. It's imperative to decide first which hull or boat size you'll be working on before buying your engine set.
A jet boat can be powered by a 2-stroke to 4-stroke jet ski engines, marinised car engines and water jet drives.
The water jet propulsion system
A steady water jet propulsion is crucial to make your jet boat perform its best. One of the many advantages of a jet boat comes from the flexibility and functionality of its waterjet.
In comparison to other marine engines, a jet boat has more stern drives, with outboard motors, shafted propellers and shifter drives. A waterjet system is also known for its excellent maneuverability, speed and efficiency.
Welding the pieces together
Welding needs skill and expertise. But don't fret– you can definitely do it! If it's your first time to do it on your own, these tips will help:
Keep it clean
All materials should be kept clean from other foreign objects that may be attached to it before welding. Make sure to wipe all the pieces and materials clean before you start.
Know where the pieces go
Don't just start welding the materials even if you have a guide to follow. Best to lay all the materials from the kit into their proper places to know where exactly everything should go.
Remove oil and grease
Oil and grease may affect the welding performance. Best to remove foreign oil and grease using a solvent so you can be sure they won't be present there.
Beware of oxidation
Using a clean stainless steel brush, remove aluminum oxide from all surfaces to avoid oxidation. This will ensure a long-lasting result on the aluminum materials of your boat.
Don't forget the jet boat windows
Now that you've built a fully-functioning jet boat, don't forget one major thing – the windows. A dashboard jet boat window and other side windows for your DIY jet boat is necessary to make the most out of it.
Whether you'll be using it for sporting activities, or just for the fun of it, a steady window will not only make your jet boat look fantastic, but will also add more function. Windows also work to protect your homemade jet boat interiors from getting soaked.
Depending on your jet boat's specifications, windows should be well-suited for the weight of your jet boat and its overall functionality.
We at Peninsula Glass – Motion Windows are experts in customizing marine windows, especially on aluminum jet boats. We can build you the toughest and long-lasting windows fit for your boating needs. Let's talk more about your window needs and contact us today.