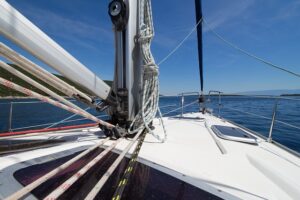 Boat hatches. If there's one thing you should know, it's that they can make or break your boat. They seem unassuming on the outside, sure, but maintaining them is critical to keeping your vessel seaworthy.
If you're reading this, you might be considering whether to repair or replace your boat hatch. It's likely that you noticed some damage or wear and tear on it a while back. Either way, there are several factors you must consider before picking one of the two. Read on to know more!
Related: What You Need To Know When Replacing Your Boat's Windshield
Is There Severe Water Damage?
This is one of the first things you should check on when inspecting your boat. It is on water, after all, so you might as well be on the lookout. Lots of things can leak in a boat, but the one leak you should avoid at all costs is when it comes from the hatch.
Here's why. Due to constant exposure to the water, the seal on the hatch can fail. Now, imagine a non-watertight boat in high waves during a storm. The water crashes on top of the deck, and dang! Your essential equipment in the cabins get wet. What if the leak finds its way to your radio or your radar? Either way, a leaking hatch can spell major problems.
The best choice is to replace a boat hatch before this happens. While repairs are possible, the seal might not be at 100 percent after patching up. Your best bet would be a full replacement as a brand new hatch would have a 100 percent seal guarantee.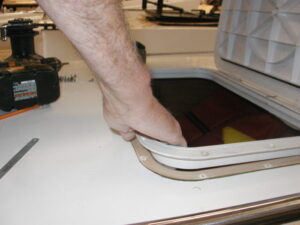 How to Replace a Boat Hatch
When repairing your leaking hatch or shopping for a new one, this is your utmost priority. Because what good is a new hatch if it's not watertight anyway?
If you're repairing the seal, be wary about how hard they can be to take out. This rings true more so if the old seals are in hard to reach places like recesses. Still, even the simplest tool like a flat screwdriver is the only thing you need. Use it as a lever to get under the old seal and pry it off. Remember to be careful not to damage the surrounding areas though.
Another thing to take note of: try to see if you can find out who the manufacturer of your old seals is. Manufacturer websites tend to have instructions on seal replacement. It comes in real handy when you need it!
Should You Replace a Boat Hatch Yourself?
Replacing a boat hatch is quite straightforward. You CAN do it yourself, but it can get tedious and you'll need special tools which might be hard to come by. Or you can take it to a professional instead. They will bring everything required and take care of it while you wait. Things like a new upper seal, a lower gasket, replacement marine-grade acrylic lens, are among the things they'd have with them.
Related: Boat Windshield Repair: DIY or Hire a Pro
If it's a flat glass boat windshield that you need replacement, consider us at Motion Windows. Our experienced engineering team consistently provides innovative and practical solutions for our customer's marine window and glass requirements. No more worries about leaking!