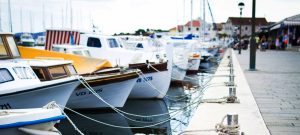 A broken boat window would need to be replaced but a leak in the window requires minor repairs. It doesn't matter what type of boat you own, you would need to deal with occasional repairs to improve the appearance and performance of your vessel.
Window frames made from aluminum are the most common in the market. So if yours is made from aluminum, finding a replacement or making repairs wouldn't be much of a problem. It doesn't matter whether your window is fixed or sliding, it is impossible to prevent water from passing through the minor cracks and spaces in case of a storm.
The most common repair you would need to make on sliding boat windows would be to change the window frame or deal with a minor leakage in the spaces along the window frame.
Repairing a Sliding Window
The first thing you want to do is to get the glass out of the frame or detach the frame and keep it safe to avoid damage to the glass. Depending on how the window is designed, you might not be able to take the glass out but you would still need to safeguard it from damage during the course of repair.
If you are changing the glass on a sliding window, it is best you take out the window first before fixing in the replacement glass and then hanging it back on the frame. It is also best to use the right size of the screw for stoppages to prevent the window from falling off (for boat window replacement parts).