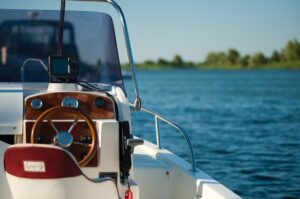 Boating is one of the most popular pastimes in the world, and it's easy to see why. But who says you can't improve the already-great experience even further? This is where cool boat accessories come in.
Related: How To Find Quality Boat Parts Online
There is all manner of cool boat accessories you can add to your vessel to make it even more fun to sail in. But they're not all made the same way! Well, don't fret, here are six of the best accessories for your boat that aren't merely cool, but you actually need!
1. Waterproof Dry Sack
Everything on a boat is always at risk of getting wet from occasional splashes, especially your clothes and electronics. So why not go for a dry sack? You can easily find them at stores and they are lightweight enough to be easily tucked away in your boat, whether in the cabin or under the seats. It always helps to have a little more peace of mind when it comes to stashing your valuables, even if water finds its way where it isn't supposed to.
2. Water Leak Detectors
Since we're talking about leaks, here's something awesome. What if you had a device that alerts you if you have a leak? That way, you can go and patch it immediately, whenever, wherever. Random leaks can always pop up in random places on your boat such as storage compartments, which you don't want at all. Purchasing a few of these snazzy little alarms will warn you with a loud whistle as soon they detect water. No need to shell out a lot of money to fix leaks if you can catch them as soon as they appear!
Related: Survival Kit Essentials To Keep In Your Boat
3. Dog Boat Ladder
This is perhaps the coolest of all cool boat accessories on this list. Now, try to imagine this scenario: your dog goes for a swim after jumping from your boat, and now you have to pull him up. But he's soaking wet and he weighs too much! So how do you solve that? With a dog ladder, of course! It will make getting them out of the water a lot easier. Trust us. You–and your pooch–will both thank the heavens for this purchase.
4. Solar-Charging Waterproof Bluetooth Speaker
Who says you can't bring your snazzy tunes whenever you leave land? With a waterproof, portable Bluetooth speaker that you never have to plug in, you can keep the party going on the high seas! These speakers are very easy to use and are built to last. You don't have to worry about them dying because they got wet. And with batteries that can last at least 30 hours, the music can keep on going until you drop.
5. Thermal Mug
Unless you have a fridge on board, you don't have a lot of choices for beverages. What if it gets too hot out and you need a refreshing drink? Or what if it's freezing outside and you want a sip of a warm beverage? This is where a thermal mug comes in. It does a simple, but nonetheless, very important job: keep cold drinks cold and hot drinks hot. What's even better is that you can get a mug that is also rust and puncture resistant, so you don't have to worry about any spillage.
6. Tracker
Sometimes, things can go awry on a sailing trip. It can happen. Which is why, to keep things safe and within reach at all times, you need a tracker. With a handy tracker, you can ensure that the boat never leaves the dock without you. You can also use the tracker to keep your friends and your family updated whenever you go out sailing alone. It can be the ultimate lifesaver for you and everyone else you take along for the ride!
Related: Best Boating Apps Every Boater Can Swear By
Complementing Your
Cool Boat Accessories
These accessories are indeed neat, without a doubt. But you can still complement them with something that will make your sailing experience a far more pleasant one! Say, for instance, durable marine windows! So if you're on the hunt for these, why not visit us at Peninsula Glass? Our team of experts are more than happy to help you with your questions!