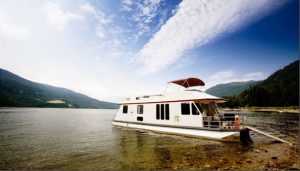 Ever had that dream of sailing into the open sea all the days of your life? Well, who could blame you when life sailing in the waters seems to be an exciting one.
Fortunately, a lot of people have this same dream that's why boat manufacturers have made it easy to make this dream a reality. Living on a boat is now possible, but like any other moving house, it may not come as easy as it looks.
Want to know how life is going to be like when you live in one? Let this guide help you.
1. Living on a boat will cost a fortune.
How much do you think living the dream will cost?
Let us break it down to you. To start living on a boat, well, you have to first purchase an actual boat. Purchasing one also depends on how you're going to use it. A houseboat, for example, can only travel through streams, lakes and inter-coastal waters. Sailboats are much more appropriate if you want to cross oceans.
Unlike ordinary houses, boats will have 3 to 4 times the maintenance work as it is constantly moving. Be prepared to spend $1000-6000 a year for maintenance work. Marine products are more expensive than ordinary home products. The good news is, spending $6000 a year is still cheaper than renting apartments in big cities.
Also, know the difference between living in a houseboat, sailboat, and floating homes. Floating homes will still have a permanent address that's why taxes will still need to be paid. Houseboats and sailboats, however, have marinas or boating communities who will need to charge you when you dock.
2. Adventure is endless
Waking up every day with different views while in the middle of the sea is as exciting as the adventure itself. If you're into this kind of lifestyle, then living on a boat is definitely for you.
Imagine not having to pack your bags because you're bringing your whole home with you. Not having a permanent address lets you discover other places and meet a lot of people all over.
When you're living in a sailboat, you'll experience big waves and bad rains. But that's the thing– it's always a great big adventure out there.
3. You'll get used to small spaces
Spaces will be too tight that's why decorating your home is not that necessary. You'll be forced to only purchase home items that serve a purpose.
The furniture won't be needed as beds and seats are part of the boat's interiors. Closet spaces will be limited as well as cupboards, so it's best to declutter every now and then.
On rough days, things may go flying inside the house that's why you should always clean as you go. You'll never know when a huge tide will hit you.
4. Constant maintenance is a must
Checking out for leaks and steam should be properly done. Leaks and steam cause molds and those pesky molds will wreak havoc in your boat. Your boat's windows must also be properly installed so as to aid in ventilation.
Make sure the battery, plumbing, electrical and mechanical systems and other essential boat accessories function well before getting out in the open. Chances are, you might get stuck in the middle of the sea, without anyone to help you out.
Your skills will be put to a test as well. A contractor will not always be around when a certain problem strikes so you must know how to DIY.
5. Anchoring out is a dream come true
If this outweighs all the cons, then there's no reason why you should hold back from living on a boat. There will be challenges along the way, but hey, isn't that what following dreams are made of?
So are you ready to live on a boat? There will surely be a lot to learn and things to discover once you start living in one. But these will all be worth it once you set out to the open sea.