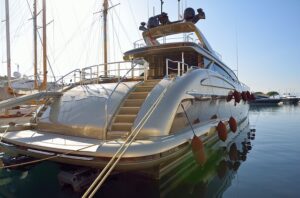 Luxury comes with a price, and it's just not the money we're talking about. It's everything that comes along with it. When talking about yachts, maintenance is an important part of owning one.
Owning a yacht and other boats should follow proper upkeep. Routine boat inspection, cleaning and maintenance is imperative to keep everything smooth sailing. It really doesn't matter if you own a big or small yacht, keep in mind that sun, saltwater and motion can significantly wear down some parts of your boat.
Whether choosing a yacht or a boat, maintenance also helps you avoid extra fees when something unexpectedly goes wrong.
Wash it regularly
The simplest chore of washing your yacht is a very important part of maintenance. Saltwater can easily aid in corrosion and will wear off the gel coat, other parts of your boat's finish. A good wash is needed after every use.
You must invest in a quality brush or water pressure to remove all the salt away. Keep in mind the best pressure to use, as certain levels can highly damage the finish as well.
Choosing the right soap is ideal to make sure all harmful elements are eliminated during cleaning. Veer away from concentrated soaps as they can be too harmful. Be also wary of caring for the ocean you sail in and only opt for environmentally-friendly detergents.
It's a cumbersome task, so it's best to have a list of yacht and boat cleaning and washing services in every marina.
Check rigs and sails yearly
Annually check out your yacht's rigs and sails to increase their lifespan. Both aluminum and wooden masts were rigged by stainless steel wires. Experts suggest to always replace stainless wire riggings once a year to keep sails safe.
This is because stainless steel wire damages are hard to see from the outside. Weak riggings can easily snap from a sudden strong wind or big wave. You don't want that on a great sailing day.
Change the oil habitually
Engine manufacturers require you to change oil at least after 50-100 hours, or depending on your manual. If the engine is new, it's ideal to change it every 20 hours for the first 100 hours or running. The older the motor gets, the lesser oil changes it requires.
Static boats also need oil change. This is because stagnant oil can be acidic or cause destruction on your engine parts. Your yacht's engine is always good to run on fresh oil.
Lay it up for winter
Winter is a lazy season for sailors. But it shouldn't be the case on boat maintenance. Laying up your yacht properly during the winter eases it out during spring time sailing.
Drain all plumbing systems, as frozen water can cause serious damages to your pipes. Also empty the holding tank and lay up your system heads. You can use your yacht's manual for this process.
Housekeeping items must be removed from the boat. Winter season can dampen and soil them, making them mouldy. Remove curtains, cushions, linens and anything else that might cause further damage when left unattended.
Fuel tanks and engine layup servicing is the most important of all. You don't want to run on a damaged tank when spring season comes.
Check your windows
Water, salty air and motion can get your yacht's windows damaged. Even a small little crack on the glass needs special attention. Remember that glass on a moving vehicle is more dangerous as it can easily shatter to pieces under sudden pressure.
Glass is one thing, installation is another. You cannot DIY everything on your boat, especially on danger-prone parts like the windows. Only get professionals you can trust for your boat window needs.
Wax and repainting jobs
Every 3 to 6 months, it's recommended to wax your yacht. Make sure to get all the visible parts of the boat waxed up, from the waterline, to the rubrail. Colored hulls need more maxing than usual.
Repainting jobs must be done at least once every two years, but some experts say annual paint jobs are more ideal. This is because cleaning can also damage the hull's finish.
Get ready for the yacht maintenance costs
We've said it before, and we'll say it again. Luxury comes with a price, and every need of your yacht must be tended for proper maintenance. Now, get yourself ready for the real deal– the costs.
They say a yacht's maintenance costs usually is at 10% of the purchase price of your yacht, annually. This is because the more high-priced the yacht is, the higher maintenance and upkeep it requires. However, if you are purchasing a second-hand yacht at a low price, it's highly likely that maintenance costs will be higher.
—————-
Yacht maintenance is a need and you should never turn a blind eye on a single part of your yacht. When it comes to boat window maintenance and replacement, it's best to turn to the experts.
Us at Peninsula Glass offer the best help for your boat windows' upkeep. Send us a message if you need assistance, or see how our products are the best for your boating needs.